Sport
10m
4
6
/

2.5m ø
Routes : Route AW
5a
©
Description

Classic route of the first climbers. Scramble up in the middle of the back side. Afterwards equipped with some bolts and an anchor for rappel down.

©

History

Route Setter %07 %b`%12: André Dachselt,@maestoe
First Ascent %13 %b`%11: Manel Sanz,@maestoe

Recent Posts
25. May 2018
Data protection
Privacy Policy We are very delighted that you have shown interest in our enterprise. Data protection is of a particularly high priority for the management of the Refugio Alto Mijares. The use of the Internet pages of the Refugio Alto Mijares is possible without any indication of personal data; however, if a data subject wants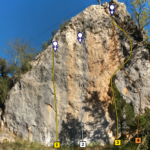 19. May 2017
Just a few quick climbs in the evening
We have to admit, the climbing routes in the are beautiful, but we wish some approaches were shorter. So we went looking for climbable rock right around the Refugio – and found it.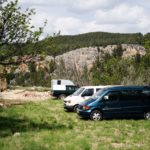 19. April 2017
We are open!
Last week, the week of Easter, it finally happened – the first guests stayed overnight in their buses. The place was packed, the mood was good, the locals want to come back soon. Climbers from further away, like Madrid and the Basque region, will we meet again on the next bridging day? The locally brewed
Recent Issues
There are 0 bugs to view based on the currently selected filters.
Proudly hosted by theCrag.com
View original page
All content is maintained by climbers like you , Thanks!