2
3
10m ø
/

2.9m ø
Limestone
Routes : Sector Bloque del Refugio
Crag Info
100% Sport






10-20 min
Kid friendly
Steep hike
Rap off




Aspect

Routes
#
Route
Style
Ascents
©

1



Tim




Sport

10m

4

1

2



Susan




Sport

10m

3

2
Recent First Ascents

Recent Posts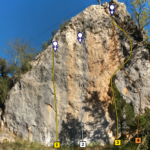 19. May 2017
Just a few quick climbs in the evening
We have to admit, the climbing routes in the are beautiful, but we wish some approaches were shorter. So we went looking for climbable rock right around the Refugio – and found it.
Recent Issues
Topo / Guidebook

Missing Topo Photo
ID: 167 Product: Peñas de Santa Isabel Version: 1 Report Date: 25. November 2014
Status: Default Priority
Proudly hosted by theCrag.com
View original page
All content is maintained by climbers like you , Thanks!